Welcome to Desert Lion Conservation

Desert Lion Conservation, or the "Desert Lion Project", as it is often referred to, is a small non-profit organisation dedicated to the conservation of desert - adapted lions in the Northern Namib. Our main focus is to collect important base-line ecological data on the lion population and to study their behaviour, biology and adaptation to survive in the harsh environment. We then use this information to collaborate with other conservation bodies in the quest to find a solution to human-lion conflict, to elevate the tourism value of lions, and to contribute to the conservation of the species.
End of a Legend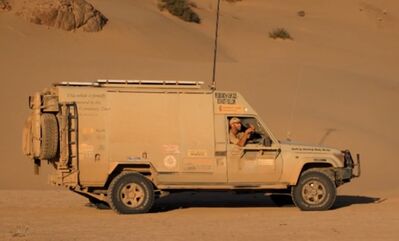 Retirement of the Research Vehicle "Arnold"
`
The future of the iconic vehicle?
Desert Lion Conservation Trust is making the vehicle available for purchase in support of the ongoing research and conservation of desert-adapted lions. Individuals or parties interested in the vehicle as a collector's item or simply as a sponsorship should submit their interest and make an offer by 15 September 2023. If several offers are received, a silent auction will be held on 20 Sep 2023.
The Land Cruiser 4000 VVTI is fully licenced and operational. The engine, gearbox and differentials are still in good condition (180,000 km), but the body and chassis are extensively corroded.
Failing any interest in the vehicle, the engine and gearbox will be sold separately as spare parts. The sale is expected to provide N$120,000 towards the Project.
The 4.5 EFI petrol engine of the Double Cab Land Cruiser "JB" (see above) with 185,000 km is also available for sale to anyone interested in supporting DLC.

Interested or just want to support please send an message in this contact form