6 January Torra Bay & Coastal lions Updates
Friday 6 January 2023
Monitoring the movements of lioness Xpl-108 in the seasonal Torra Bay angling area
The lioness Xpl-108 remained inside the thick reeds for most of the day. She emerged briefly during the afternoon when a small herd of springbok moved by at a distance.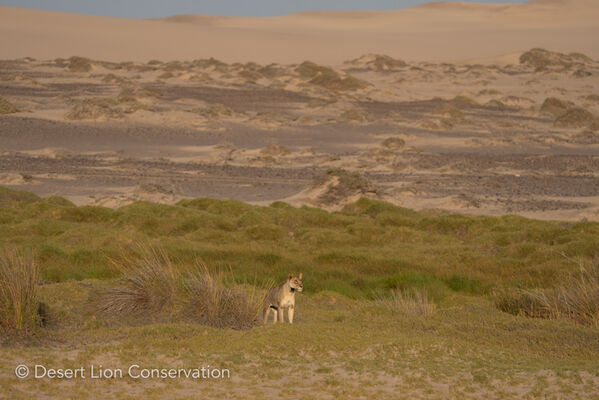 Xpl-108 emerges from the reeds to inspect a herd of springbok. 
Several interested tourists attempted to turn off the main road until staff members of the Ministry of Environment, Tourism and Forestry, the famous Metusalag Gawuseb "Whitey" from Ugab Gate and Gift from Springbokwasser Gate, arrived to close the service road off with "No-Entry" signs.


"Whitey" and Gift from MEFT pack "No-Entry" signs to prevent off-road driving. 

During the last visible light of the day the lioness moved out of the reed-bed and headed for the ocean. She combed the nearby beaches and caught a Cape fur seal pup that she carried back to the reed-bed to feed. At 03h30 in the morning she returned to the ocean and carried another small seal back to the reeds.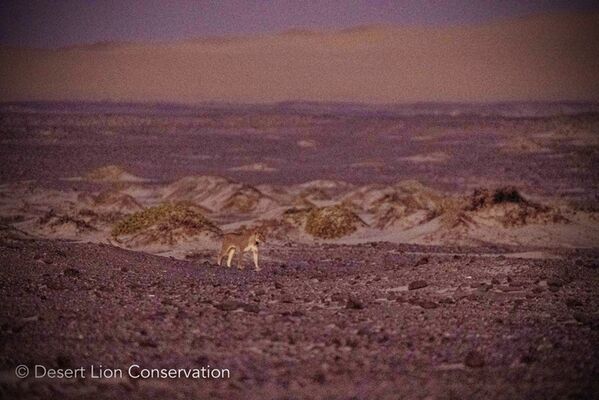 Xpl-108 moving to the coast during twilight.
Lioness searching the coastline for prey and returning to the reed-bed before daylight.
6 January 2023

For the third consecutive day – a day characterised by exceptionally strong winds and spectacular cloud formations – the lioness remained hidden in the reeds. At sunset the lioness emerged from the reeds and walked slowly towards the ocean. She reached the beach at 20h00 and headed southwards. Within a few minutes she caught another young seal, but before she could eat, two fishing vehicles arrived from the north. The disturbance caused her to grab the seal, run up the steep bank, across the gravel plains to a nearby hill, and then on to the safety of the reed-bed – a distance of 2 km. She stayed inside the thick vegetation until the following day.
Beauty of the Skeleton Coast: a day in one minute.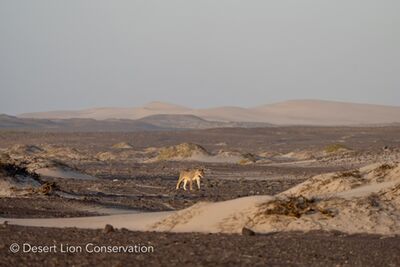 ​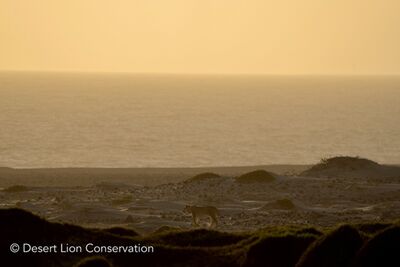 Lioness Xpl-108 heading for the ocean at sunset.
A Skeleton Coast lioness walking to the beach with the moon rising.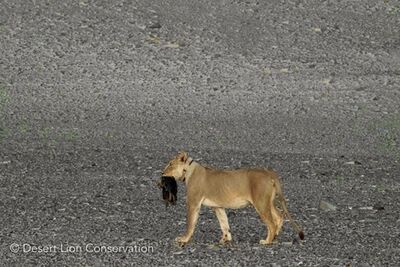 ​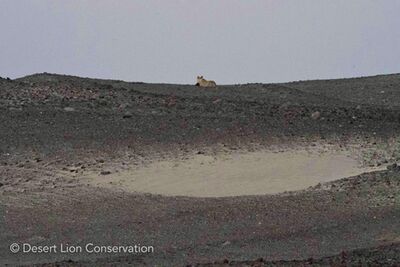 Spotting the approach of two fishing vehicles after sundown, the lioness moves rapidly to a nearby ridge carrying her food.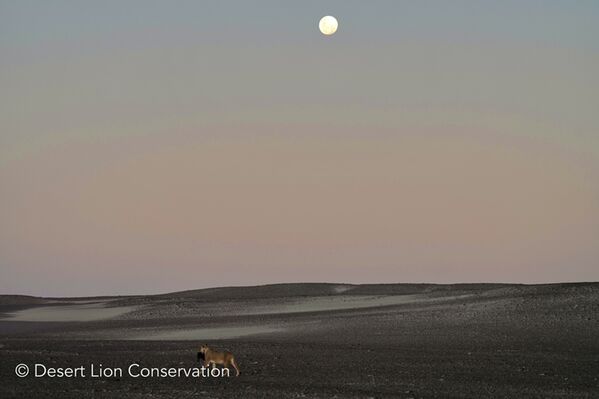 Xpl-108 over the gravel plains with the moon rising.