Coastal lions & Hoanib cubs
Friday 20 January 2023
Monitoring the movements of lioness Xpl-108 in the seasonal Torra Bay angling area
15/16 January 2023
Following a brief visit to Raleigh spring during the night of 15 Jan 23, the lioness Xpl-108 left the Uniab Delta and the Torra Bay fishing area. She followed the course of the Uniab river in an easterly direction and spent the day just east of the dune-belt. The following night she continued eastwards and it is now unlikely that she'll return to the coast before the closure of Torra Bay at the end of January 2023.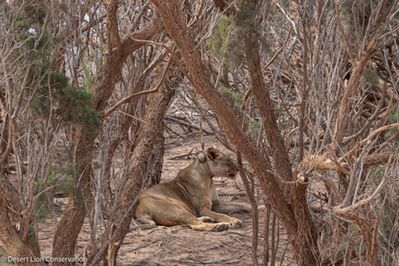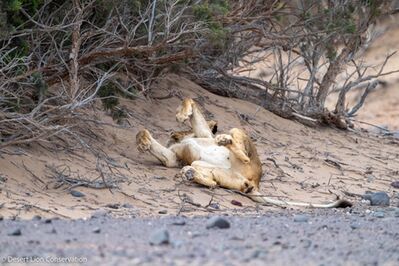 ​
Xpl-108 resting in the shade of Tamarisk trees in the Uniab river. 
The Torra lioness Xpl-108 moving inland along the Uniab river. 
18 January 2023
After spending a significant amount of time with the lioness Xpl-108 in the Torra Bay area, attention was turned to the Orphan lionesses at the mouth of the Hoanib River. The two lionesses "Alpha" Xpl-106 and "Bravo" Xpl-109 were located with the two cubs near Oasis spring west of the dune-belt. Both lionesses and the two cubs were in good condition and they have been spending time hunting cormorants and other wetland birds along the marches at Oasis spring. Xpl-106 "Alpha" is in the process of weaning the two cubs.
​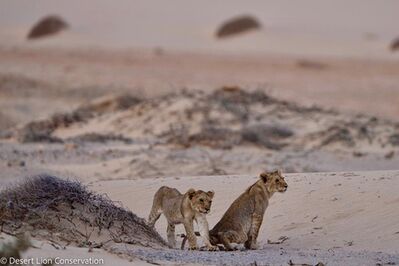 Xpl-106 "Alpha" and her two cubs were spotted on a small dune. 
The two Orphan lionesses and the two cubs moving along the edge of the dune vegetation.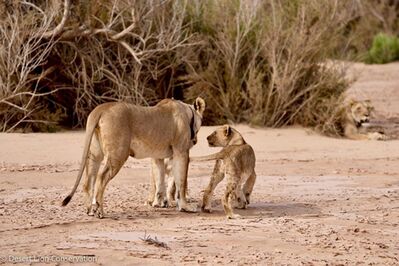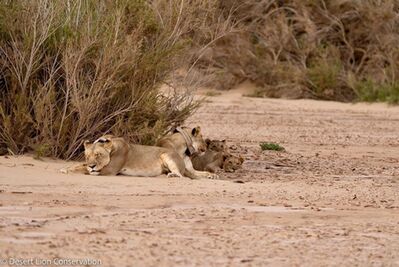 ​
The Orphan lionesses were reunited with the cubs after spending time on the Hoanib Floodplain.
Lioness "Aplha" Xpl-106 weaning her two small cubs.