Dust storms, Flash floods and Rainfall
Tuesday 24 April 2018
Dust storms, Flash floods and Rainfall
Unusually widespread rains during the past two weeks have changed the face of the desert. In addition to the six major river systems, flash floods were recorded along several of the smaller drainage lines, including the Obab, Beacon, Samanab, Springbok and Agab Rivers. The entire area between the Huab and Hunkap Rivers up to approximately 10km from the coast is covered in a blanket of green grass.
Dust storms along the coast and evidence of flash floods during the past two weeks.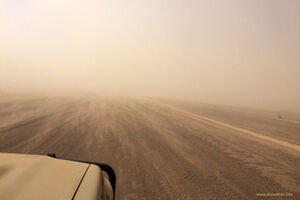 ​ 
The gravel plains between the Huab and Hunkap Rivers are covered in lush green grass.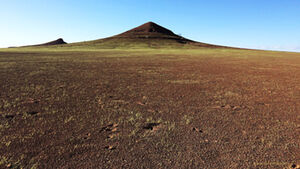 ​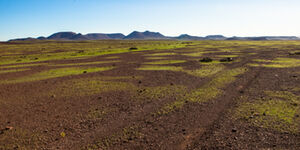 ​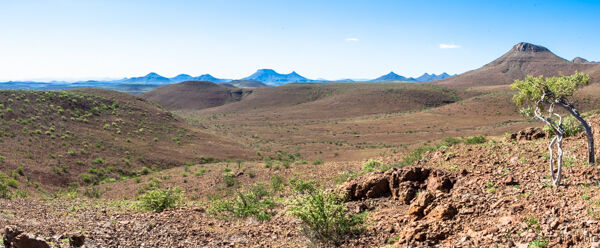 Early-warning and monitoring systems
The first Logger Early-warning systems was erected at Driefontein in the Torra Conservancy. Driefontein, in accordance to the NW Human-lion Conflict Management Plan, was identified as one of the conflict "hot-spots" where problems with lions have occurred repeatedly over the past 20 years. Cliff Tjikundi, of the Rapid Response Team, and several Lion Rangers assisted with the erecting and testing of the system. They also received training on the working mechanisms and maintenance of the Earl-warning system. The Minister of the Environment & Toursim will officially unveil the structure later this week when Cliff and the Lion Rangers will present a demonstration of the working mechanisms.
In addition to the Logger Early-warning system at Driefontein, a "Satellite Logger Unit" was erected along the Uniab River. This unit will monitor lion movements, download GPS data stored on lion collars, and relay the information via satellite to the Central Server. A large area between the Hunkap and Huab Rivers were covered in search of lions in order to fit the newly modified radio collars that are compatible with the Logger and Early-warning units. The extensive rains, however, has complicated the field work as ungulate species (e.g. gemsbok, springbok & zebra) have dispersed in search of green grass.
An adult lioness was captured in the upper reaches of the Koigab River and fitted with a new Logger collar that will communicate with the Early-warning system erected at Driefontein.
Obab lionesses visit Springbok River
After they spent nearly two weeks at the Uniab Delta, the Obab lionesses moved to the Springbok River where they visited Zink spring. They came close to reaching Driefontein, but fortunately, they changed direction and moved past Wereldsend. The Obab lionesses were located in the Koigab Hills, northeast of Springbokwasser. They are all in good condition. The software on the Logger radio collar fitted to one of the lioness was updated in order to communicate with the Early-warning loggers.