Brown hyaena killed by vehicle at Möwe Bay
Tuesday 12 September 2023
Between 19h00 and 20h00 on 5 September 2023, Xhb-22 "Ella" was killed by a vehicle on the main road 2 km southeast of Möwe Bay Station (see photo). At 18h00 she was observed still resting in a rock outcrop some distance east of the road. Xhb-22 was a breeding female of the Möwe Bay Clan and it is a tragic loss. She was fitted with a new GPS radio collar on 25 July 2023
An accident like this can happen, but by law in a National Park it has to be reported to the authorities. This section of the Skeleton Coast National Park is not open to the general public and restricted to the Ministry of Environment, Forestry & Tourism, tourism concessionaires or individuals with legal permits. To date the guilty party has not yet come forward. We urge all parties working in the area to investigate the incident among their staff. To accidentally kill an adult brown hyaena, fitted with a radio collar, so close to Möwe Bay and not report the incident is not only a crime, but it is morally unacceptable. The impact most likely caused structural damage to the right front of the vehicle.
A necropsy was performed on Xhb-22 to determine the exact cause of death (fractured lower spine & pelvis, ruptured diaphragm and extensive internal bleeding) and to collect biological samples.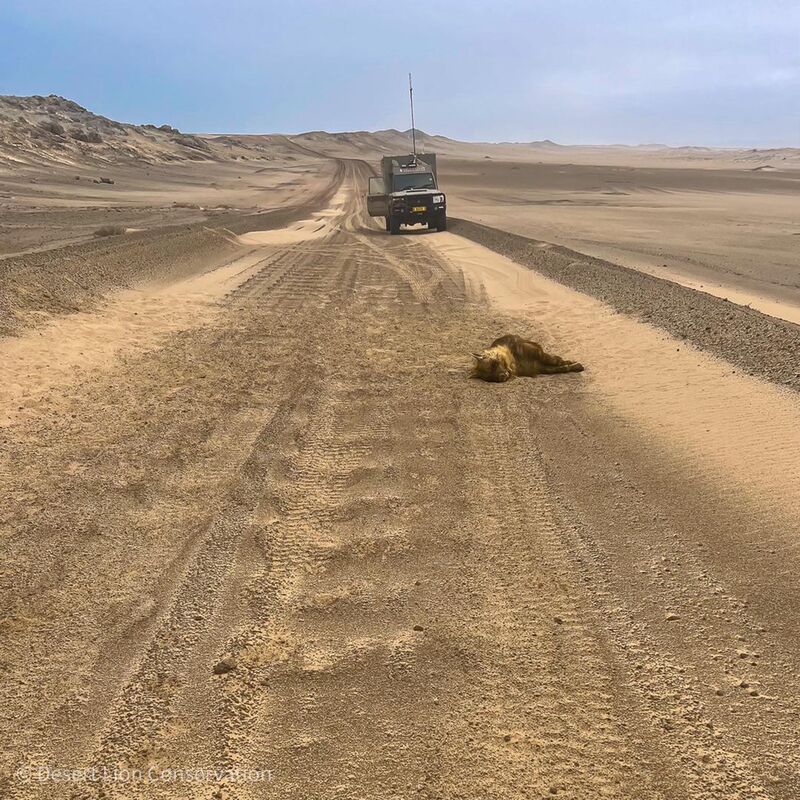 The adult female brown hyaena Xpl-22 "Ella" on the road where she was killed.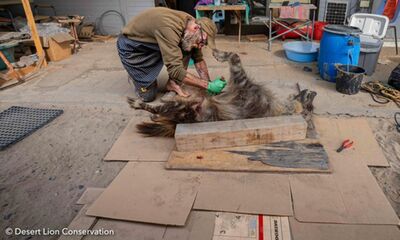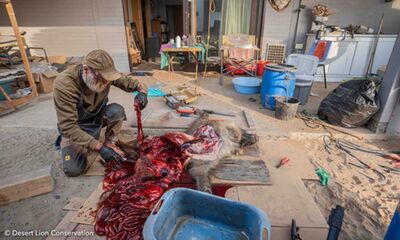 Dissecting the brown hyaena to determine cause of death and to collect biological samples.