Xpl-108 "Torra lioness" meets male Xpl-107 "Mwezi": the future of Coastal Desert lions?
Monday 9 October 2023
A concerted effort was made to monitor the movements of Xpl-108 and to record all the major food items she consumed. After spending several days at the coast in April 2023, the lioness moved inland and spent over five months in the area between the Obab River, to the North, and the Huab River, to the south. She returned to the ocean at the Uniab Delta for the first time on 25 Sep 2023. She captured an adult male ostrich in the dunes, where she spent three days feeding, before she went onto the beach near Raleigh spring and captured a Cape fur seal at 23h45 on 26 Sep 2023.
The following day the lioness crossed the dune-belt to the east and then the most unexpected and amazing development unfolded. She met an adult male and started mating.
In spite of the harsh environmental conditions that prevailed, the male Xpl-107 "Mwezi" has not only survived, but has been one of the most reproductively successful males in the population. The mere fact that they found each other in the vast area is impressive (see map where they were >100km apart). On 29 Sep 2023 when they were 80km apart, the two lions converged towards each other following course the Uniab River. On 28 Sep 2023 they were 30km apart and met up the following night.

Xpl-108, is the sole survivor of the once dynamic Obab Pride of the legendary lioness Xpl-45 "Lovechild" that re-discovered the marine food resources and started hunting Cape fur seals as far back as 2015. Following the death of the two sisters (Xpl-105 & Xpl-97 "Jemima"), the statement was made here that the only hope for the continuation of the Coastal lions and the spreading of the knowledge of the marine food resources among lions in the southern section of the Skeleton Coast National Park, depends on Xpl-108 finding a male and raising a litter of cubs. She is 12 years old and, with a bit of luck on her side, could still raise the cubs to adulthood.
Another important development, however, is that Xpl-108 may lead the male Xpl-107 to the coast and expose him to the availability of the marine food resources, In fact, after they separated, he searched for her and followed the Uniab River westwards into the Skeleton Coast Park.
Remains of a male ostrich killed by Xpl-108 and dragged into a depression on a large hummock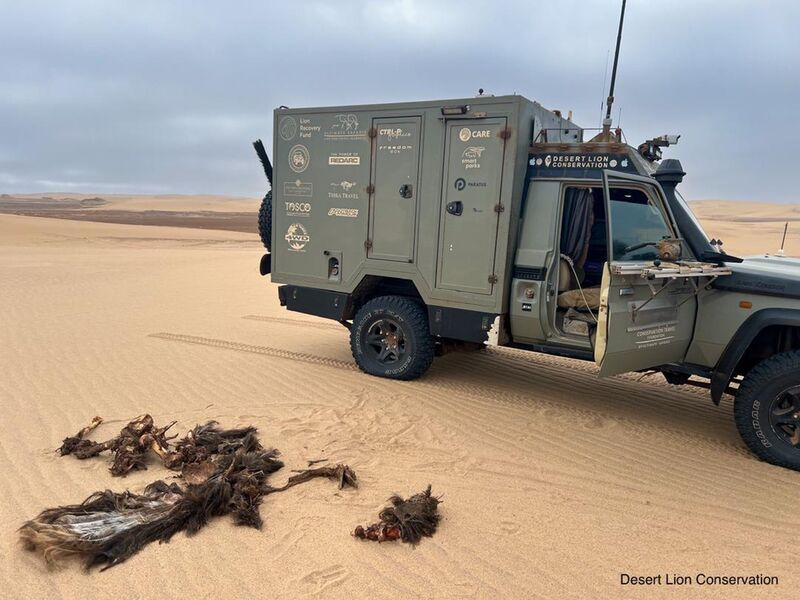 Remains of the ostrich recovered from the hummock.Xpl-108 feeding on a Cape fur seal
Xpl-108 came to inspect the research vehicle and rested nearby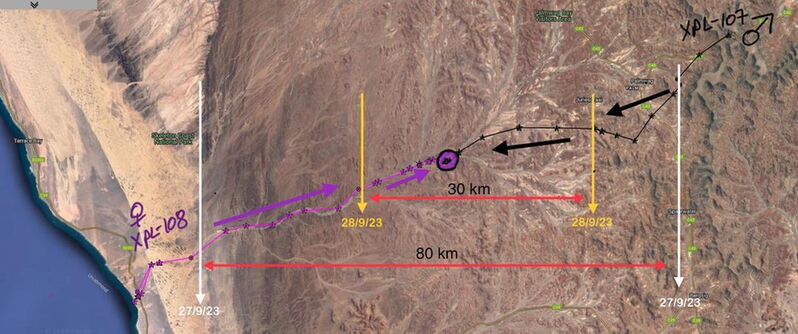 Schematic layout of the two lions converging towards each other along the Uniab River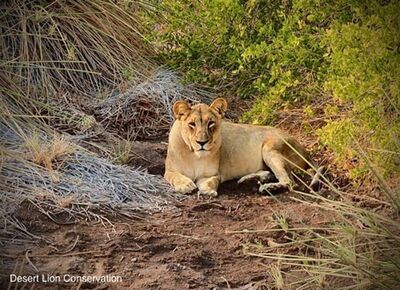 Xpl-108 and Xpl-107 "Mwezi" during the three days they were together and mating (photos by Hilary Roman).