Purros Problem Lion & Humpback whale
Sunday 3 June 2018
Refurbishment of Mowe Bay Cabin
The old Mowe Bay Cabin was dismantled. The old structure had become unstable and many of the walls and big sections of the roof collapsed due to excessive corrosion. A new foundation and a new floor were cast. The rest of the new cabin will be erected during the next week.
Humpback whale

On 29 May 2018 a dead Humpback whale washed ashore at Mowe Bay. Measurements and biological data were collected. The whale measured 10.2 metres in body length. After several days of rough seas, the scull became separated from the body and it was collected for the Mowe Bay museum.
Purros Lion Problem

The young adult male lion that caused problems around Purros at the end of May 2018 was followed to the Khumib River where it was immobilised, fitted with a satellite radio collar and, with permission from the Ministry of Environment & Tourism, translocated to Sarusas spring 35km further downriver (see map below).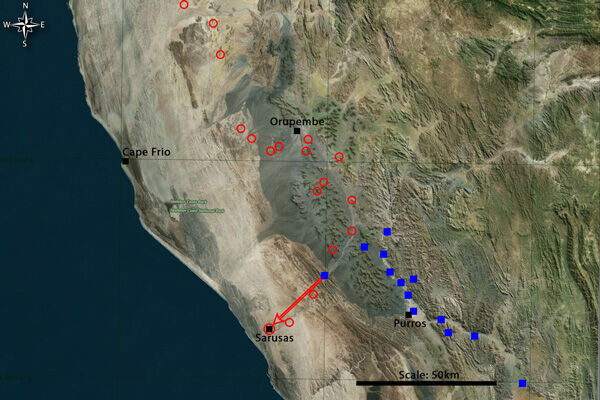 After recovering from the anaesthetics the lion moved eastwards along the course of the Khumib River (red circles: see map) before crossing over to the Sechumib River towards Orupembe. The male spent several days near Orupembe and then continued moving northwards, crossing the Nadas, Munutum and Engo Rivers, and reached the bottom of the Hartmann's Valley. These movement patterns are similar to those of other dispersing male lions, such as the Sechumib Nomads in 2005, Xpl-29 in 2007 and Xpl-68 "The Terrace Male" in 2013.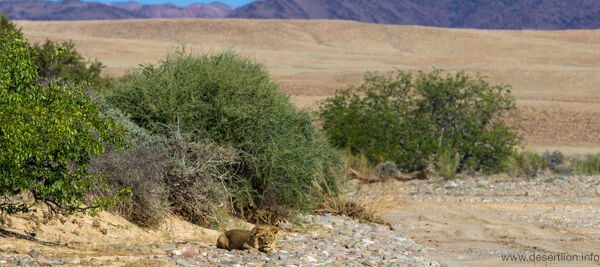 Early-warning and monitoring systems
The process of implementing the NW Human-lion Conflict Management Plan continues. A large area of the Hoanib River, including the major tributaries and Elephant Song was covered in search of the resident lions. Due to the exceptional rainfall several weeks ago there are few animals utilising the dry riverbeds and, as a result, the lions have been difficult to locate. A lioness of the Hoanib Pride gave birth to a litter of cubs near the new lodge of Natural Selection. An adult male lion was tracked for 32km but moved into an inaccessible area east of Elephant Song before he could be immobilised. An Early-warning collar was fitted to a lioness that occasionally venture close to Sesfontein and kill livestock.