New fittings of Early-warning collars
Monday 15 October 2018
Early-warning and monitoring systems
Much progress was made with the implementation of the NW Human-lion Conflict Management Plan. After fitting three EW collars and a satellite collar to key lions in the Ugab /Huab area, attention was turned to the northern areas of human-lion conflict. A substantial amount of time was spent in the difficult mountainous terrain of the upper Obab, Barab, Aub, Hunkap, Mudorib and Obeb Rivers. Breakthroughs were made when important lions from the areas around Onjoka, Orowau, Elephant Song, Ganamub and Mbakondja were captured and fitted with EW collars.
Summary of darting efforts and fitting EW radio collars
An exhausting effort to fit EW radio collars to key lions in the population continued during the past two months. Following on from the efforts during June and July 2018 an additional 29 nights "Trap nights" were invested to immobilise particular individual lions. The search efforts expanded to some of the key conflict areas and success was achieved on 9 nights (31% success rate) when a total of 17 lions were captured. Some lions were fitted with Early Warning radio collars, one lioness received the first satellite EW collar and others were individually marked.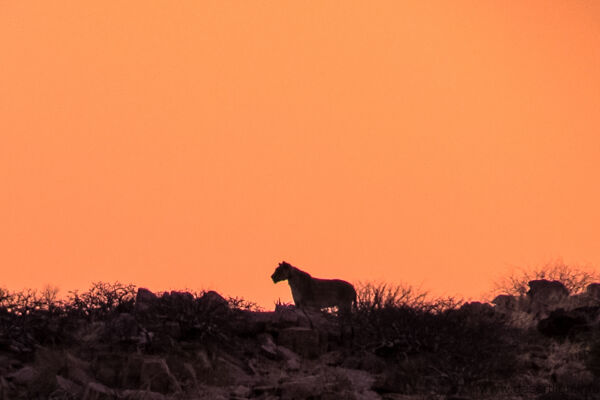 Trap Nights for September - October 2018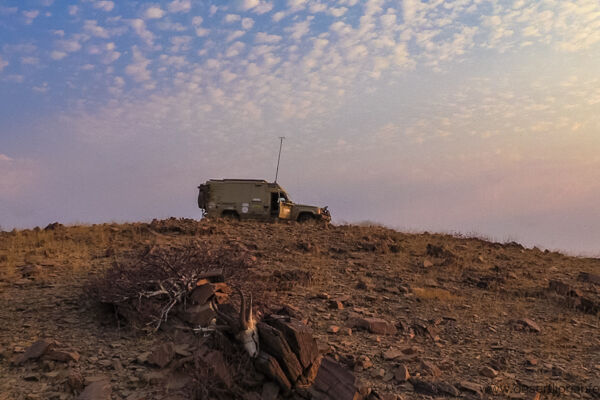 First Satellite Early-warning collar
The first proto-type Namtag satellite Early-warning radio collar was completed after many months of painstaking work. Several weeks of tests and diagnostics checks produced good results and it was time to fit the collar for the ultimate test. The adult lioness, Xpl-69 of the Floodplain Pride, was selected for the new collar.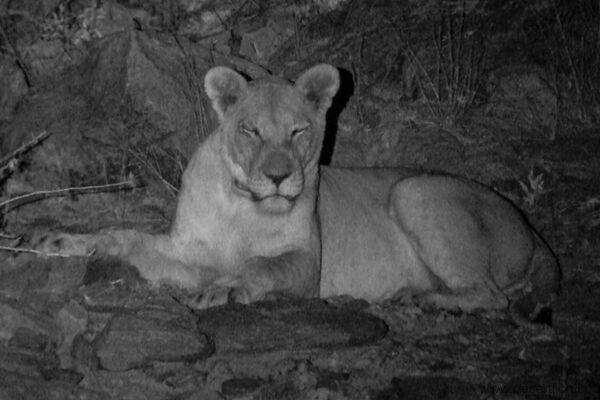 Lions in the Mbakondja / Onjoka area
​
​ 
Lions in the Hoanib / Elephant Song area

Lions in the Barab / Orowau area


Training
An extensive amount of valuable practical field training was made possible during the capture and collaring of lions over the past few weeks. The Rapid Response Team, Linus Mbomboro, Cliff Tjikundi and Rodney Chevara, were present during most of the dartings and were exposed to the techniques and methods of locating lions, preparing capture operations, fitting radio collars, collecting biological data and monitoring the vital statistics and welfare of the immobilised lions. Mr Mazuma, the Carnivore Coordinator of the Ministry of Environment and Tourism attended the darting of four lions near Mbakondja and added value to the experiences.
Cliff, Rodney and Linus fitting an EW radio collar to an adult lioness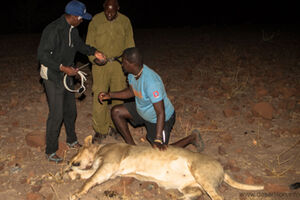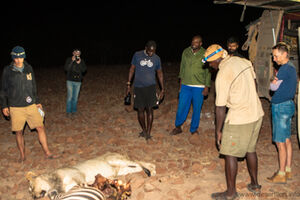 Mr Mazuma of MET monitoring the heartrate of an adult lioness at Mbakondja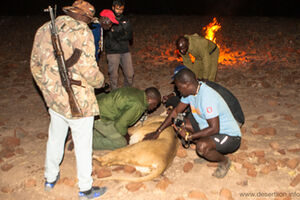 ​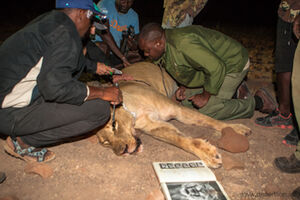 Scenery and Wildlife
Although the numbers of wildlife and prey animals remained below normal in most of the distribution range of the lion population, the mountainous areas of the upper Barab and Hunkap Rivers, and Okongwe supported good concentrations of Hartmann's zebras.