Hunting giraffes – the legacy continues
Sunday 25 March 2018
Rain and floods complicate fieldwork.
Efforts to locate and fit Early Warning / GPS collars to the lions that frequent the upper Hoanib and Mudorib Rivers were complicated by rain showers and flash floods. The Hoaruseb River came down in flood on 20 Mar 2018 and flash floods in the Hoanib River reached the border of the Skeleton Coast Park on 23 Mar 2018.
Hunting giraffes – the legacy continues.
One of the three Orphans joined the adult lioness Xpl-69 and they have been frequenting the Hoanib River east of the Floodplain. The remain two Orphans expanded their movements southwards towards Terrace Bay and western section of the Hoanib Floodplain. They visited Mowe Bay on 16/7 Mar 2018 where they fed on a Cape fur seal that they scavenged from a brown hyaena.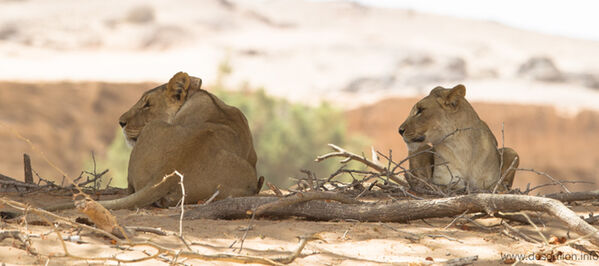 Over the years the Hoanib Floodplain pride developed a culture of killing giraffes that started with the old lioness, Xpl-10 "The Queen". The third Orphan (now just over two years of age) that joined Xpl-69 is already actively pursuing and hunting giraffes along the Hoanib River.