New Year explorations
Sunday 10 January 2021
Lions return to Hoaruseb River
The two "Orphan" lionesses, Xpl-106 "Alpha" and Xpl-109 "Bravo" of the Hoanib Floodplain pride expanded their home range area and discovered the lush and productive Hoaruseb ephemeral river. Best described as a "linear oasis" the Hoaruseb riverbed holds a lot of surface water and lush green vegetation that attracts wildlife from a large section of the Northern Namib (photos). The lionesses did not know about the Hoaruseb river and since they have previously only ventured 15km north of the Hoanib river, their discovery of the Hoaruseb was impressive. On 3 January 2021 they moved northwards from Auses spring into the dune-belt and continued for approximately 65km across a sea of sand dunes (map). The course of their movements were anticipated and on the morning of 5 January 2021 they were spotted on top of the high sand dunes that forms the southern bank as they descended down to the Hoaruseb river.
The Hoaruseb ephemeral river cuts through the dunes to the ocean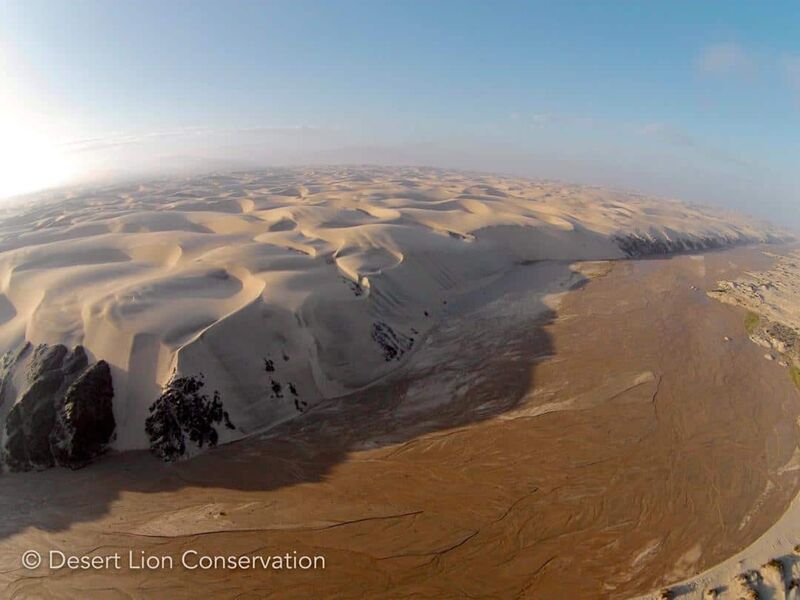 ​ 

Gemsbok are attracted to green vegetation and water




The Orphan lionesses crossed the dune-belt to reach the Hoaruseb river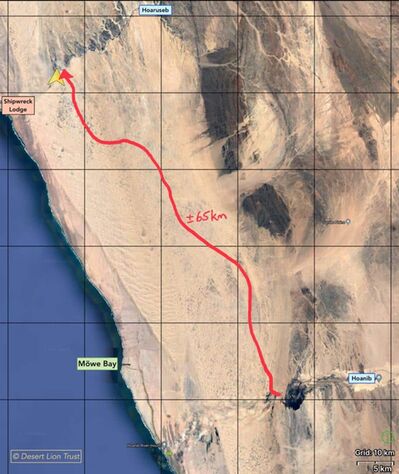 The lionesses on the southern bank of the Hoaruseb river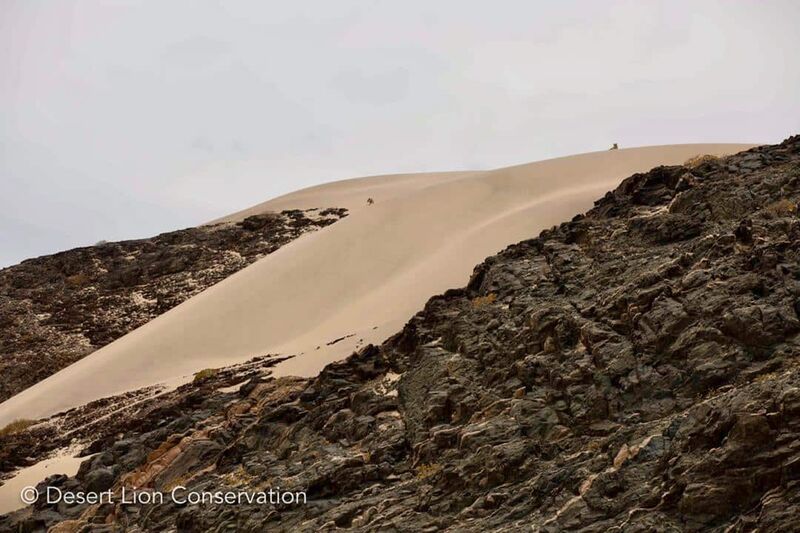 ​Xpl-109 "Bravo" descending into the Hoaruseb river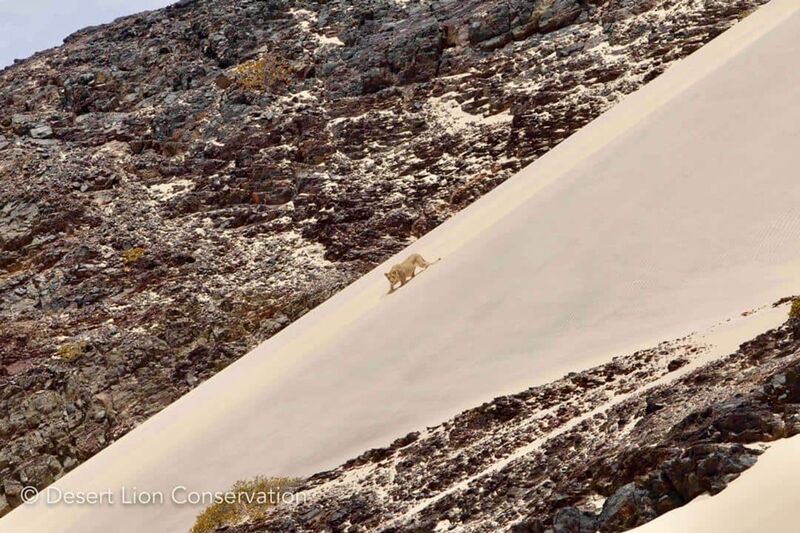 The "linear oasis" of the Hoaruseb river is, however, of significant importance also to the community and livestock farmers of the Purros Conservancy. Due to the increasingly arid conditions of recent years, large numbers of livestock are utilising the Hoaruseb river and cattle regularly meander deep into the Skeleton Coast National Park. When the two lionesses arrived at the Hoaruseb, the first animals they encountered and also hunted were cattle (video). A concerted effort was made to prevent the lions from killing livestock by disturbing the lions and herding the livestock out of the Skeleton Coast National Park. The Lion Rapid-response Team were quick to react by herding the livestock back towards Purros and informing the community. Shipwreck Lodge are thanked for their support. After the livestock were removed from the area, the lionesses caught an unsuspecting gemsbok at a fresh-water spring.
Two lionesses attempting to catch livestock in the lower Hoaruseb river

The two Orphan lionesses crossing the Hoaruseb river

This marks the return of lions to the lower Hoaruseb river after an absence of nearly a decade. The last resident lions, including the well known lionesses Xpl-37 "Morada" & Xpl-38 "Tawny" were poisoned during 2011, and the "Terrace Male" Xpl-68 was killed at Tomakas during 2014.
Images of the Hoaruseb pride & the Terrace Male in the lower Hoaruseb river during 2010/2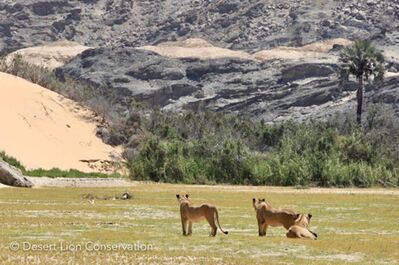 ​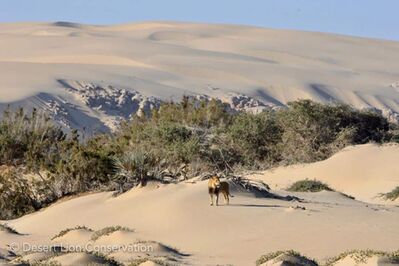 Xpl-38 "Tawny" at the mouth of the Hoaruseb river in 2009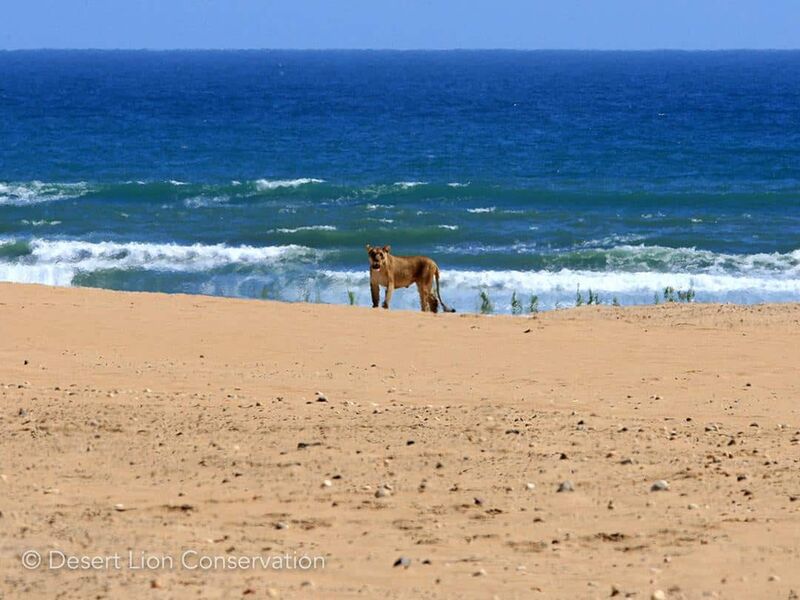 Xpl-106 "Alpha" resting in the shade of the research vehicle

The Orphan lionesses explore the Hoaruseb river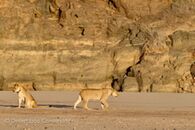 ​ 

​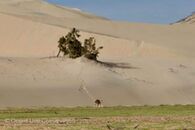 A brave brown hyaena that was clearly not familiar with lions visited the gemsbok carcass of the Orphan lionesses on several occasions and was lucky not to be mauled or killed by the lions.
A brown hyaena skirting around two lionesses feeding on a gemsbok carcass

A brown hyaena unfamiliar with lions risks serious injury