Recovery
Friday 25 June 2021
The desert-adapted lion population is recovering from the prolonged period of food shortage due to the prevailing hyper-arid conditions. The late rains during April and May 2021 produced green vegetation that attracted large numbers of prey animals to the home range areas of those lion prides that occupy the western and more arid segments of the Northern Namib. This influx of prey, however, resulted in inter-specific and intra-specific competition as lions from several different prides and other large carnivores, such as spotted hyaenas and cheetahs, were attracted to the areas of prey concentrations. Lions from three different prides were observed clashing over the remains of a springbok carcass killed by a cheetah, and on another occasion a lioness in poor condition clashed with a group of 12 spotted hyaenas.
Lions from two different prides attracted to the same carcass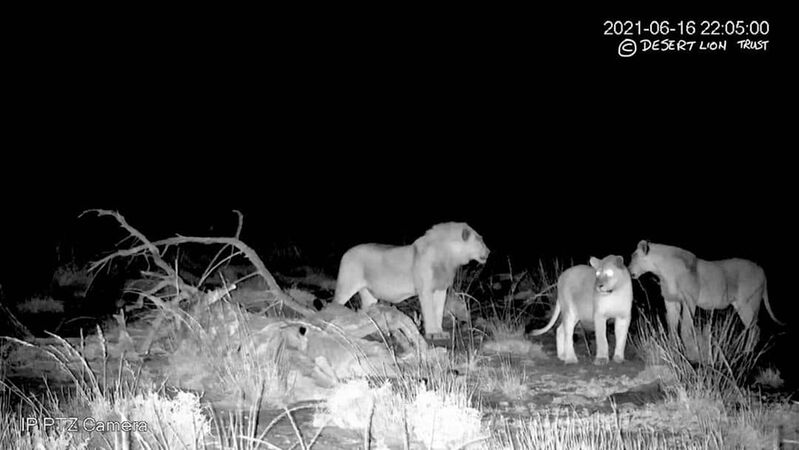 Spotted hyaenas compete with small groups and single lions over food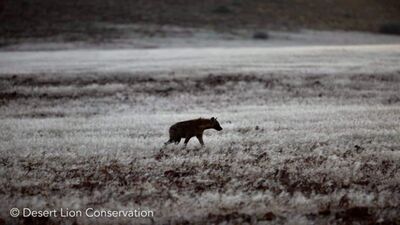 Lions from the western prides that were food-stressed for an extended period and lost physical condition during the early part of 2021 are still struggling to recover fully due to fragmentation of group structures, competition with spotted hyaenas an other lions at carcasses, and their poor physical condition. On the other hand, lions from the central/eastern areas whose group structures remained intact were able to recover rapidly from the period of food shortage. The emaciated lioness Xpl-84 found near Hunkap spring in early May 2021 was joined by sub-adult lionesses also in poor condition and continued to improve despite injuries sustained during clashes with spotted hyaenas and lions from neighbouring prides. Two new satellite collars were fitted to key lions from the Aub / Barab area. The Hoanib pride moved into human-lion conflict areas near Ganamub and Sesfontein due to an absence of prey in their normal home range. The Rapid-response teams worked with the local communities and used scare tactics to deter the lions from approaching livestock areas. The two Orphan lionesses have alternated their movements between the lower Hoaruseb river and the Hoanib Floodplain.
Single lions and small groups are slow to recover from the period of food shortage

​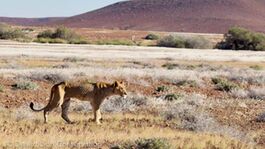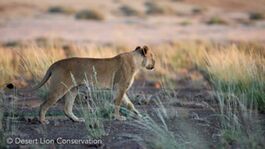 Prey animals concentrating in the areas that received late rainfall


Two lionesses in poor condition bearing injuries sustained from competition over food


Single lioness showing positive signs of recovery from prolonged period of food shortage

A pride of five lions in good condition following the influx of prey to the Barab area


Darting of an adult lioness Xpl-83 to fit a new satellite collar

Darting of a male lion during a clash between two different prides

Lioness Xpl-114 "Charly" in the Hoanib river

Cape fur seal killed by lions in the Skeleton Coast National Park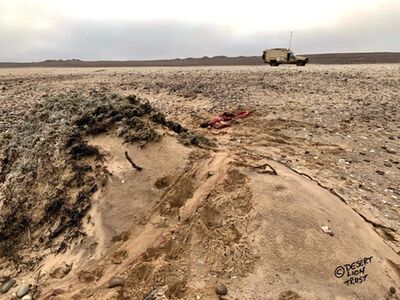 New research vehicle
Modification of the new Land Cruiser research vehicle sponsored by the Lion Recovery Fund, the Lionscape Coalition, Ultimate Safaris & several other donors is nearing completion. Some specialised equipment, such as the sound system, have already been transferred from the current research vehicle. Following the structural work done by Namib Campers in Swakopmund, the vehicle will go to Windhoek where Safari Engineering will complete the solar power, suspension, and other mechanical additions.
Progress of the new research vehicle modifications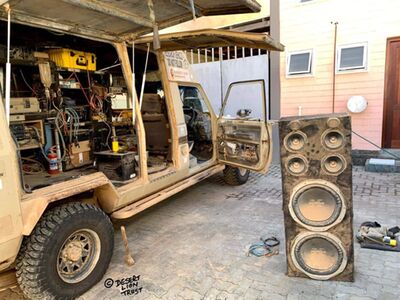 ​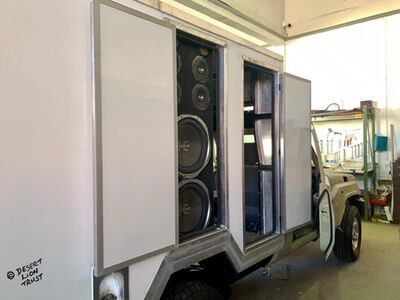 Full moon over the basalt hills