Hoanib River
Sunday 11 July 2021
During recent months numerous concerns have been raised on social media platforms concerning the status and condition of the Desert lion population in Northwest Namibia. These emotionally charged reports were understandably fuelled by sensational photos of lions in poor physical condition, but were also mostly based on misinformation or assumptions that created confusion amongst the general public and detracts from the ongoing conservation efforts by the Ministry of Environment, Forestry and Tourism, IRDNC and Desert Lion Conservation Trust. The global climate crises and ongoing hyper-arid conditions in the Northern Namib are adding to the environmental and conservation problems faced by the region. The conservation of wildlife populations in this arid environment and multi-use landscape, where local communities and pastoralists share their land with large carnivores, such as lions, is complex. Intervention and direct management of lions and other wildlife populations are generally reserved for incidents where humans are impacted, whilst natural ecological and evolutionary processes are respected. Namibian authorities and professionals in the fields of biology, community development and conservation have always relied on science, collaboration and mutual respect to tackle the difficult task of conserving lions.
Hoanib Pride
Under the guidance of the Ministry of Environment, Forestry and Tourism a detailed assessment of the Hoanib pride is currently underway. During the past week the Hoanib pride killed and consumed two adult Hartmann's zebras and they are in good physical condition. The density of prey animals in the area remain low, however, and incidents of human-lion conflict may still occur during the next few months. The female large cub (X103Y20F) is not currently with the pride and has most likely died. The cause of death remains unknown with starvation an unlikely cause due to the condition of the rest of the pride and the sibling male cub.
The Hoanib pride on 5 July 2021 after consuming a zebra carcass

The Hoanib pride moving towards shade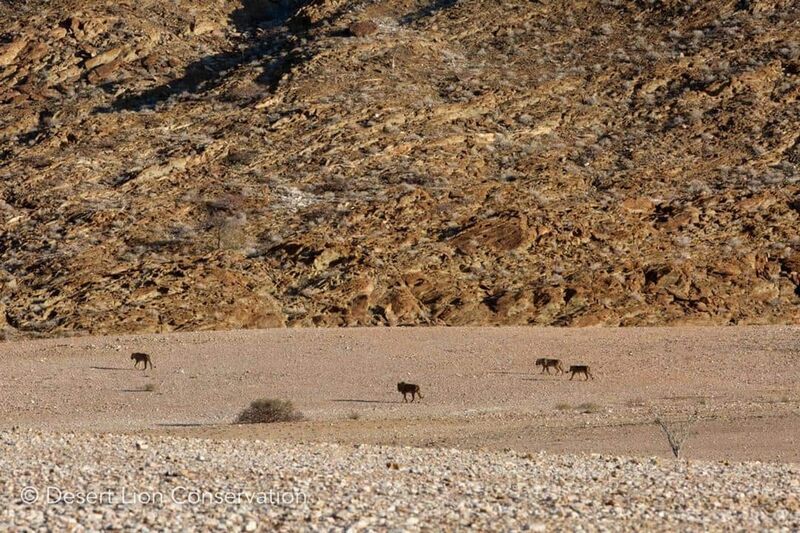 Improved condition of a male cub feeding on a zebra carcass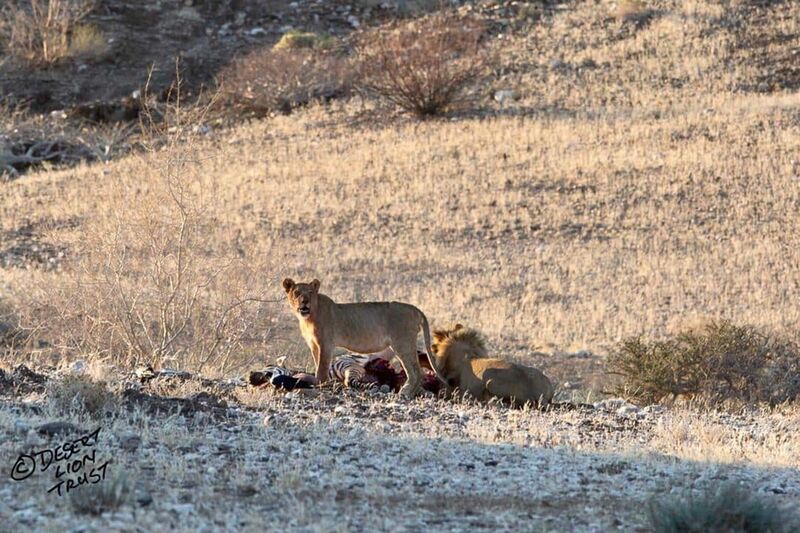 The Hoanib pride enjoying the spoils of a second zebra kill in 4days

All four Hoanib lions are in good condition

Hoanib River
Prey animals are slowly returning to the Hoanib river. The solitary lioness Xpl-114 "Charly" has struggled to find prey along the Hoanib riverbed and began exploring the gravel plains and mountains to the north and south of the lower Hoanib.
The solitary lioness Xpl-114 "Charly" hunting along the Hoanib riverbed

Xpl-114 "Charly" hunting gemsbok in mountainous habitat

Lioness (Xpl-114 "Charly") killed a springbok in a narrow gorge