Death of a Lioness
Monday 22 August 2022
Hoanib Floodplain Pride
The two Orphan lionesses have traversed the Floodplain and sections of the dune-belt every night, moving an average of 20–30km per day, in search of food to sustain themselves and the three small cubs. Although there are many springboks in the area, they have killed mainly smaller and younger animals, including Ludwig's bustards, but their preference appears to be ostriches. It has been tough going to keep up with them over the rough terrain.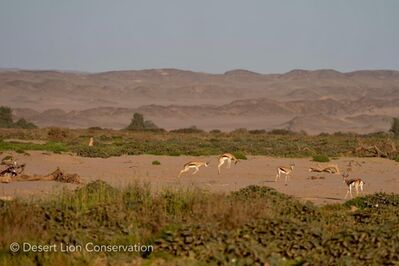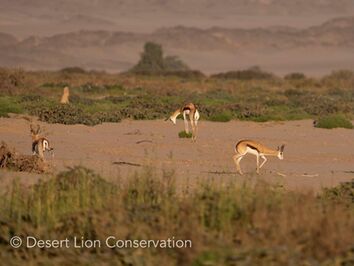 ​
Large numbers of springbok are congregated on the eastern plains.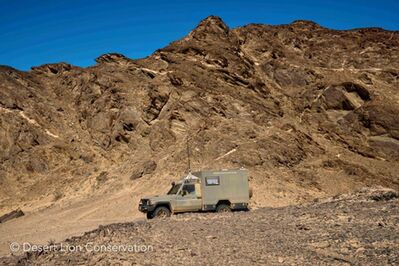 ​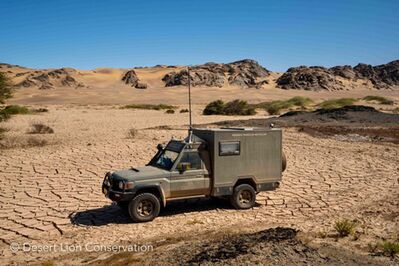 The research vehicle has been challenged by the rough terrain.

The three cubs were not observed for four days as the lionesses hunted far and wide. They have not captured a large animal for more than a week and are in need of a big meal.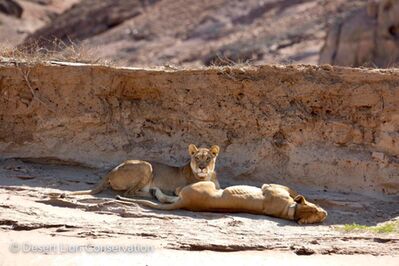 ​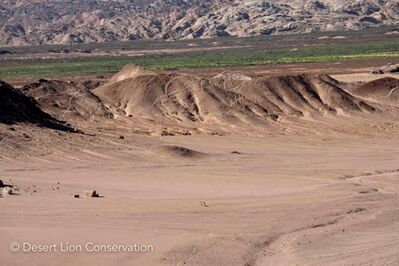 The two Orphan lionesses have searched far and wide for food.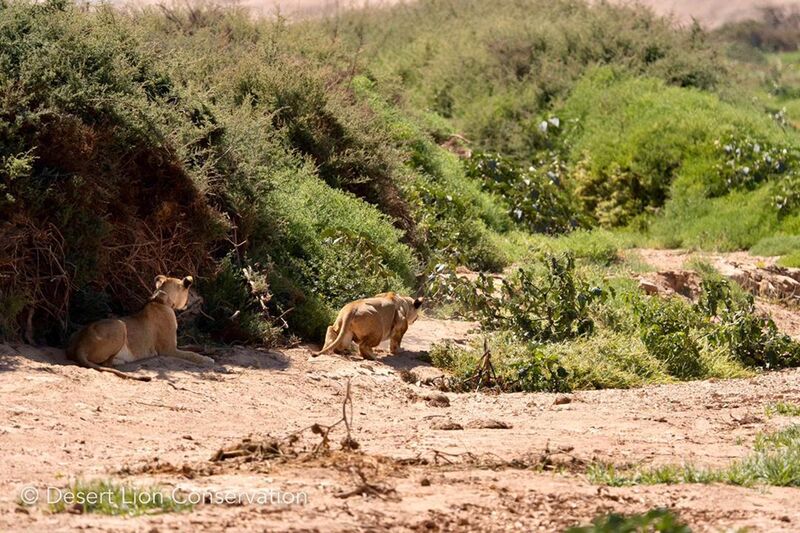 Lionesses stalking a flock of ostriches on the Floodplain.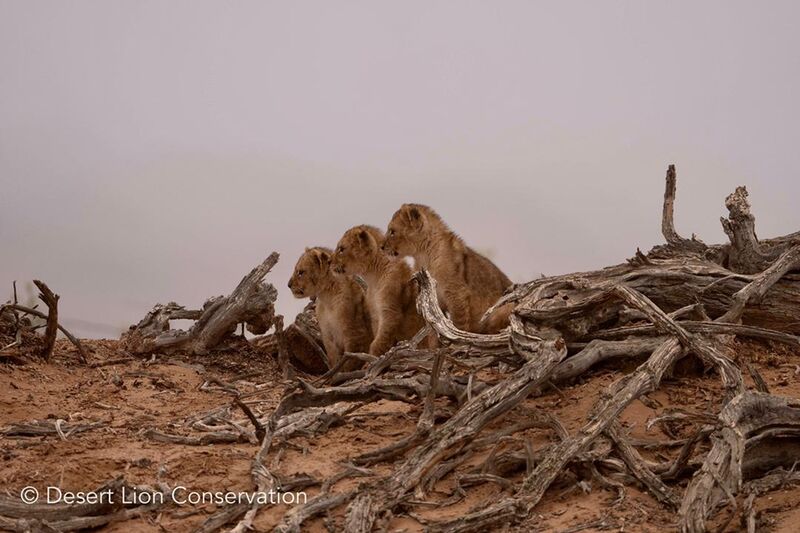 The three small cubs were located after four days.
The cubs were playful and pleased to be with the lionesses.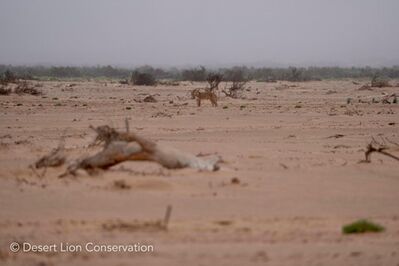 ​ 

Xpl-106 "Alpha" calling her cubs to cross to open plain.

Death of a coastal dwelling Obab lioness
The satellite collar of the Obab lioness Xpl-105 gave a mortality signal during the night of 18 Aug 2022. She was located the following day near the mouth of the Koigab river and 4km from the ocean. She was in a good condition and at the age of 9 years her death is a mystery.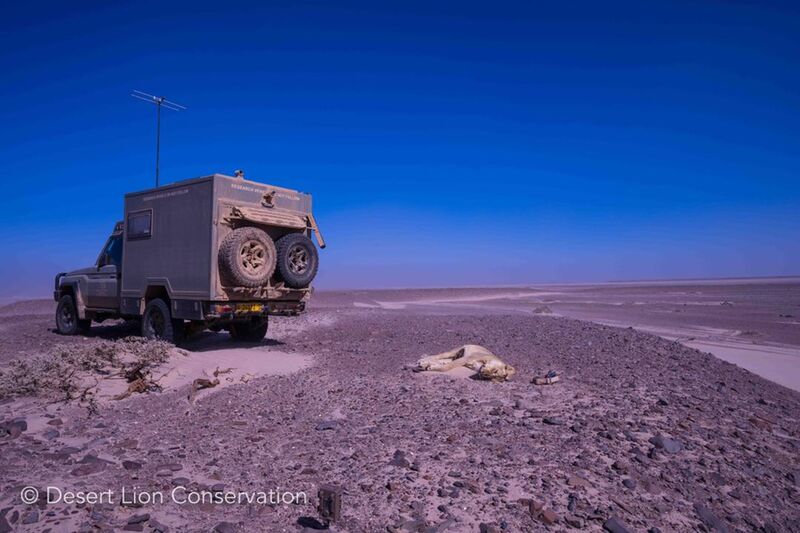 Xpl-105 was located on the open plains along the lower Koigab river.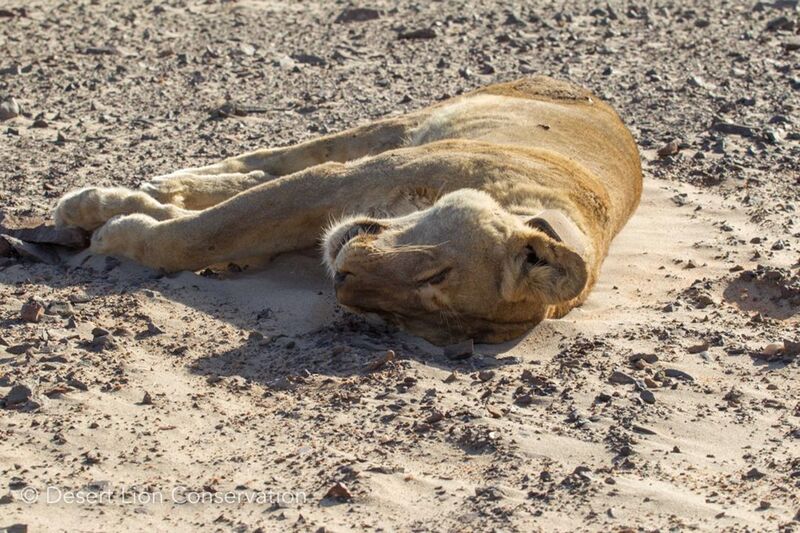 She was in good condition and with no signs of struggle, she appeared to have died quickly.
The veterinary surgeon, Dr Diethardt Rodenwalt, who recently joined Desert Lion Conservation Trust as an associate, responded quickly and joined the researcher in the Koigab river. During a sandstorm with howling winds, a comprehensive necropsy was performed and samples were collected for further analyses. Details of the findings and the cause of death will be reported when available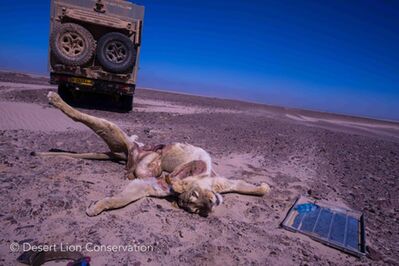 A detailed necropsy done on the lioness.
The necropsy was performed under atrocious conditions during a sandstorm.

The rest of the Obab lionesses
The two remaining Obab lionesses and siblings of Xpl-105 were located 12km away feeding on a Cape fur seal carcass near the ocean. They were both in good condition.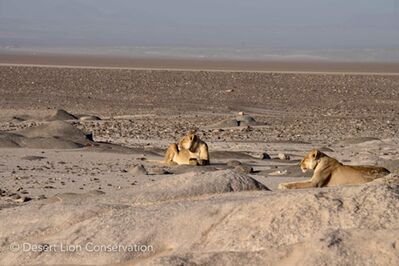 ​
Two heathy Obab lionesses feeding on the remains of a Cape fur seal
Two Obab lionesses moving during the late afternoon in search of food.`


Two sisters curled up together behind a hummock against the cold and howling winds.